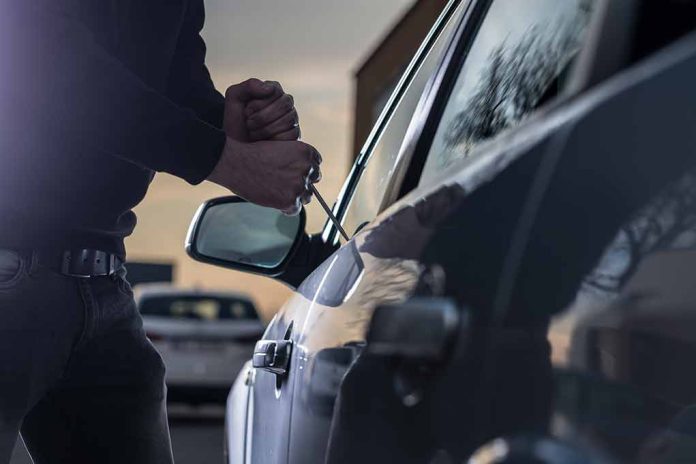 (BrightPress.org) – A 26-year-old Ohio man was detained by clever use of a forklift after he allegedly attempted to steal a car from a salvage yard in Akron. Footage from an officer's body cam shows the vehicle suspended roughly 20 feet in the air before the operator puts it down so police could arrest the occupant.
Arlington Auto Wrecking employees say this isn't their first run-in with the suspect, identified as Alexander Funk. They said this latest incident marked the third time he's been attempting to steal from their business, but this was the first time they were able to secure his arrest.
Officers relayed the story of arriving on the scene to see an SUV hoisted dozens of feet off the ground. One officer asked for the suspect's name when he was apprehended and he refused to give it. The suspect claimed he was running from someone and asked what the charges were.
Funk was slapped with criminal trespass charges as well as possession of criminal tools.
Local TV station WOIO obtained the 911 dispatch call where employees told the operator that the suspect was bouncing around inside the vehicle, threatening to topple it off the lift. When informed that the suspect was suspended in the air the 911 operator replied with a laugh and said they were sending the police immediately.
Funk had allegedly passed out inside the vehicle while attempting the theft, which prompted the employees to detain him.
Employees said that they had let Funk go the first time with a verbal warning, the second time he attempted a theft from their business, he escaped. This time they weren't going to let him off easily.
They were moving the car into their shop when they noticed he was in the backseat of the vehicle, unconscious.
Funk's previous criminal record includes charges for drug use, criminal trespass, and disorderly conduct. He had an open warrant on the disorderly conduct charge at the time of his arrest.
Copyright 2023, BrightPress.org