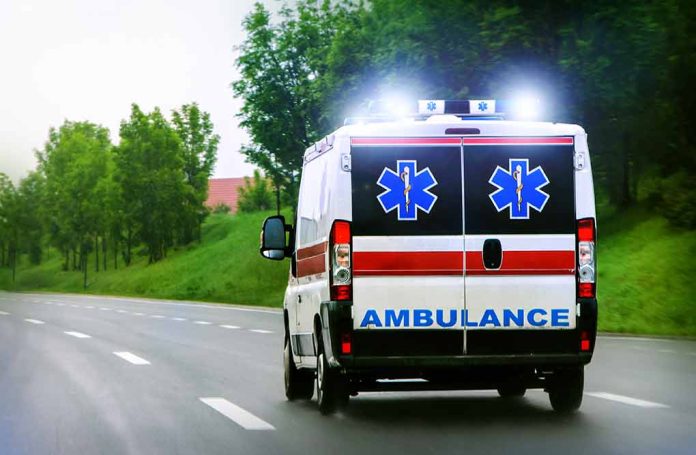 (BrightPress.org) – Georgia police arrested a 58-year-old woman after she was alleged to have stolen an ambulance and led them on a high-speed chase shortly after midnight on Tuesday morning, September 19th.
After stealing the vehicle she took it south on I-18, according to a report from Fox 5. Police say they were alerted to the theft by Henry County officials and instructed to watch for an ambulance.
Deputies from the Monroe County Sheriff's Office tried to pull her over on I-75 but Byrant sped up to 88 miles per hour and led them on chase. She exited onto I-475 where police were able to set up "stop sticks" which disable the vehicle by popping the tires.
She was alleged to have driven the vehicle for an additional mile before exiting the vehicle and trying to escape on foot. She was arrested shortly thereafter.
Bryant is being charged with attempting to escape from the cops, speeding, and theft of the vehicle.
Another Georgia woman was arrested on charges of labor trafficking, and cruelty to children after the Georgia Bureau of Investigation and Echols County Sheriff were alerted to a minor being abused and forced to work in produce fields. Genara Uan-Ramos, 30, is alleged to have trafficked her own relative for labor.
The minor was a noncitizen who was trafficked by his sponsor, an all-too-common tale according to Tara Lee Rodas, a whistleblower who worked at the Department of Health and Human Services on its Unaccompanied Alien Minor program.
Rodas explained that a "sophisticated network" exists to traffic minors in the U.S. and that the federal government facilitates the trafficking often by delivering children to their would-be abusers. In this case, as in many, the sponsors are family members. She also reported that some sponsors sponsor dozens of kids which should be a major red flag. Rodas reported that her concerns were ignored by leadership and she was fired shortly after making her report.
Thankfully, in this case, the minor was able to escape and ask for help. GBI reports that the minor also suffered physical and psychological abuse at the hands of Uan-Ramos. She is currently being held without bond.
Copyright 2023, BrightPress.org