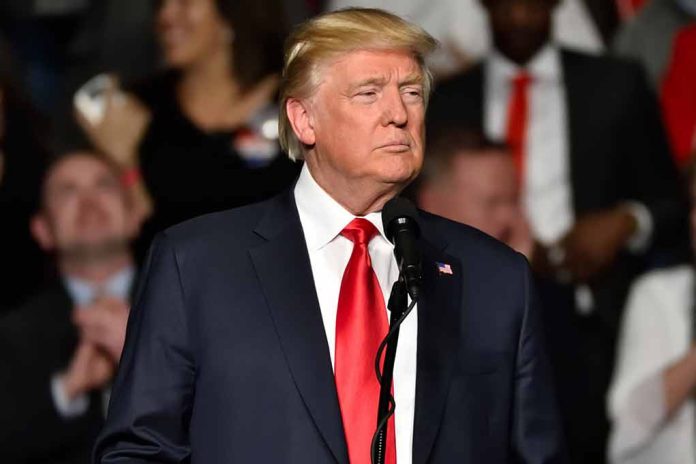 (BrightPress.org) – Republicans in Congress are pushing back against President Donald Trump for suggesting they utilize the current funding crisis to disable the Department of Justice.
Trump called the end of the month an important deadline and asked Congressional Republicans to defund every agency that's been weaponized against him and other conservatives. He further pointed out that Biden refuses to close the southern border. Trump said that they had previously failed during debt limit negotiations.
Trump said it was their "last chance" to use congressional control of finances in order to defund the political witch hunts against him. While some Republicans are adamant on this point as well, many believe they need to pass this deal and then continue to expose corruption.
Rep. Ralph Norman (R-SC) suggested Trump would do the same thing if he was in their position. He further suggested that passing the deal would earn them the political leverage they require to deal with the weaponization problem.
Rep. Dave Joyce (R-OH) said that they were in Congress and Trump wasn't and that their focus needs to be on the business of the House. He further suggested that a continuing resolution was required since there's no way to pass all the appropriations bills before the end of September.
Rep. Drew Ferguson (R-GA) implied that Trump's request wasn't a high priority despite consistent attempts to keep him from running in 2024.
Republicans passed something last week before negotiations broke down; the deal is considered dead in the Senate as multiple Republicans are refusing to endorse it. It would have implemented spending cuts and addressed the southern border crisis while also delaying the September 30th shutdown into late October.
Congress still has to pass a finalized budget for 2024. Rep. Ben Cline (R-VA) said that he was happy with their progress on counteracting woke policies and rooting out corruption in the political process. He further added he was "acutely aware" of the problem of being on the Appropriations Subcommittee that manages the budget for the Department of Justice.
Copyright 2023, BrightPress.org