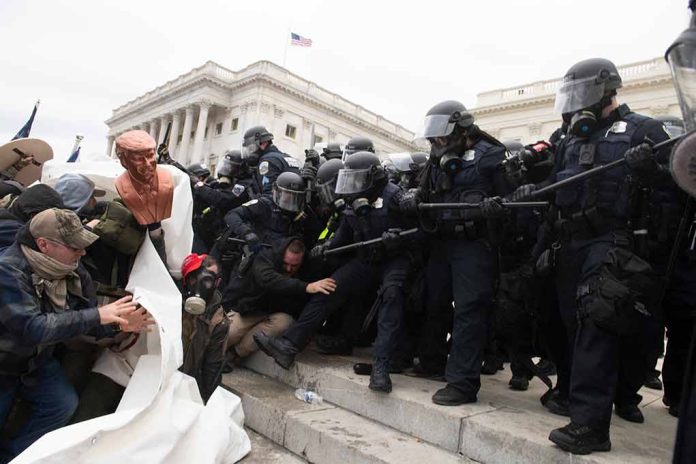 (BrightPress.org) – Zachary Alam is a January 6th defendant who witnessed the murder of Ashli Babbit. His trial began on September 5th and his lawyers have an interesting strategy: a good offense is the best defense. They plan to call Officer Michael Byrd to the stand. Byrd is the man identified by the government as responsible for the death of Babbit. She was killed when she attempted to climb through a window into an office area where Byrd was present.
Alam believes he must go to trial to expose her murder and further believes that Babbit sacrificed herself to save his life. An exclusive statement was obtained by the Gateway Pundit and it represents his first public words since his incarceration almost a thousand days ago.
Alam is one of the few defendants who has refused a plea deal and his trial offers a historic opportunity to force Byrd onto the stand and under oath explain himself for killing Babbit.
His letter opened describing Babbit herself, he said knew little of her, but that she was an Air Force veteran, 34 years old, and from San Diego. She was married and survived by her husband, mother, and brother. He explained that Babbit had punched him in the head and knocked his glasses off after he had knocked a window out of the door frame. He said she grabbed him by his knapsack and punched him, knocking off his glasses. In that instant she scrambled through the window he was going to climb through and ended up getting shot and killed, taking a bullet that would have otherwise killed him.
Alam then describes his background, his faith in Christ, and his previous incarceration due to "foolish and immature" errors in his youth. He then explained how the pandemic lockdowns destroyed his life and livelihood and he went to J6 to protest the injustice he experienced. He cited the hypocrisy in charging citizens with assault while dismissing the only murder that happened that day at the hands of a government agent.
Friends of Alam have set up a legal defense fund. 
Copyright 2023, BrightPress.org