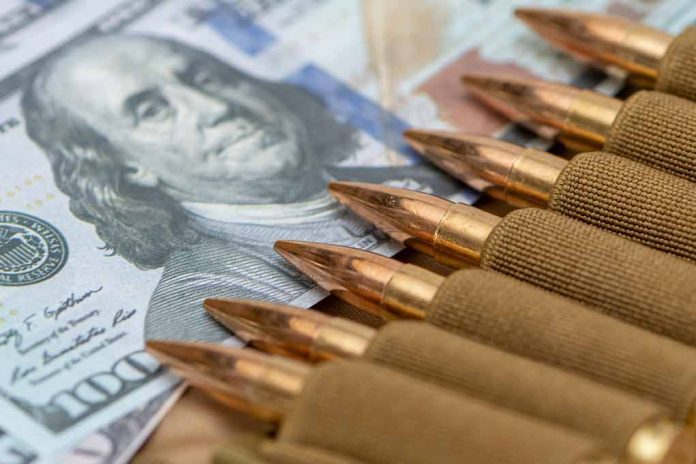 (BrightPress.org) – Establishment Republican and Democrat Senators are working to push the $106 billion aid package that President Biden requested. Biden wants another $60 billion for Ukraine, $14 billion for Israel, $7 billion for Taiwan, $14 billion for border security, and another $9 billion in humanitarian spending. Not a cent of that will go to help impoverished Americans still dealing with the continuing economic fallout of multiple years of lockdowns.
Conservative Republicans, the so-called "MAGA" or Trump-supporting faction of the party have enough votes to kill the omnibus package in the House. Senator Rand Paul (R-KY) is likely the most fiscally conservative Senator in Congress, and he suggested that the deal was DOA or "dead-upon-arrival" due to the unpopularity of further Ukrainian war spending.
Republicans generally support Israel and they've been doubling down on their support for the tiny Jewish state since Hamas launched a surprise attack on October 7th which resulted in over a thousand dead Israeli civilians and military and has earned thousands of bombs in response. The Gaza health ministry has estimated around 7,000 Palestinian deaths so far. Hamas still holds several hostages, originally it was estimated they took around 200 people during their raid. New reports from Israeli witnesses are suggesting many of the dead civilians were killed by Israeli friendly fire.
One point of agreement between President Joe Biden and former President Donald Trump is support for Israel. Paul anticipates that an Israel-only bill will pass the House. Trump called for his supporters in Congress to squash and further Ukrainian war funding bills until the Department of Justice, FBI, and IRS release all the evidence of Joe Biden's crooked financial schemes which investigations in Congress have already elucidated to a startling degree.
Speaker Mike Johnson (R-LA) and 92 other House Republicans voted in September to prohibit further military spending for Ukraine, the bill was defeated by all Democrats and 126 Republicans voting against it. Republican Rep. Michael McCaul (R-TX) told Newsweek that "Israel is very popular" thus the desire to use that popularity to push through additional spending.
Copyright 2023, BrightPress.org