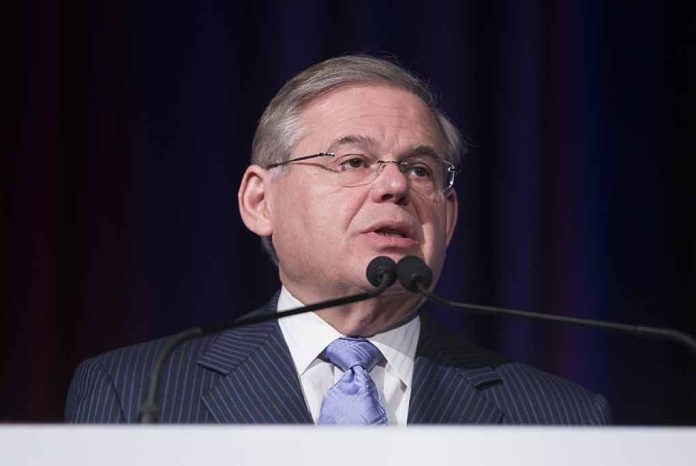 (BrightPress.org) – Disgraced Sen. Bob Menendez (D-NJ) is being slapped with an additional charge of being a foreign agent in a fresh indictment filed on Thursday, October 12th. Menendez had repeatedly opposed reforms to the Foreign Agents Registration Act (FARA), per Senate records.
Menendez stopped Rep. Sen Chuck Grassley's attempt to enhance penalties and create more transparency for foreign entities acting in the U.S.
Menendez complained at the time that it was "shortsighted" to create new penalties until more specific regulation of foreign entities was in place. He called the rise of foreign influence "disturbing" at the time, and said bad actors use a "variety of measures" to conceal their shenanigans. He requested a "comprehensive look" at FARA rules instead of adding "tweaks or new tools."
Grassley's bipartisan effort was designed to give the Justice Department more tools to "detect and deter secret foreign lobbying," which Menendez would naturally oppose if he was benefiting from it.
Rep. August Pfuger (R-TX) pointed out that the fact Menendez blocked the bill which would have made his crimes more readily apparent was all the more disturbing. Menendez actively worked to keep the bill from being incorporated into the National Defense Authorization Act (NDAA) which is a must-pass omnibus military spending bill that maintains funding for the armed forces.
The suite of reforms would have added hundreds of thousands of dollars in penalties for unregistered agents.
Menendez stands accused of being the recipient of hundreds of thousands in illicit bribes from Egyptian actors, per the latest indictment filed in Manhattan last week. He's accused of using his position as Senator to benefit his patrons over his constituents in one of the most blatant acts of criminal corruption.
Menendez has denied the allegations and maintained his innocence. The indictment alleges he used his position to demand bribes in exchange for official acts in Congress.
Copyright 2023, BrightPress.org