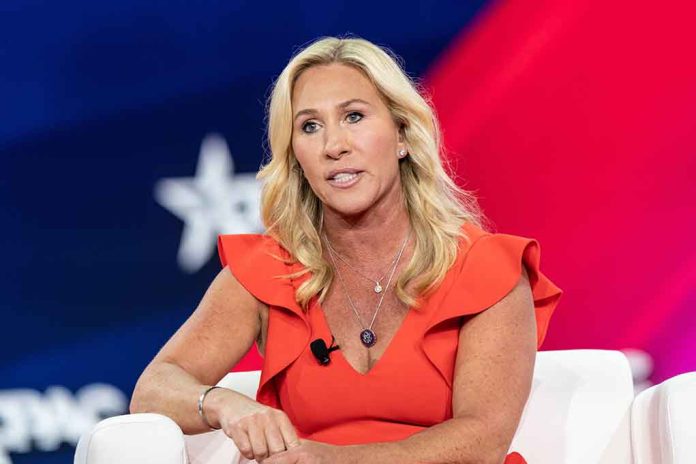 (BrightPress.org) – Congressional firebrand Rep. Majorie Taylor Greene (R-GA) said on Tuesday, October 2nd that the only person she supports for Speaker of the House is former President Donald Trump. In a post on X (Twitter), Greene said that she's exclusively supporting Trump for the position and listed a litany of reasons.
Greene claimed that Trump would end the war in Ukraine, secure the southern border, and stop the weaponization of government against conservatives and more. She cited his "proven 4-year record" in office as president.
She also pointed out that in the last election, Trump secured more votes than any past Republican candidate.
Rep. Matt Gaetz (R-FL) called for a vote to remove Speaker McCarthy (R-CA) from the position and was able to secure a majority vote with all the Democrats voting in favor of McCarthy's ouster. Some pundits thought the Democrats were going to rescue McCarthy since he had been so accommodating thus far, but they ended up voting against him in one huge block along with a handful of conservatives.
Gaetz had been threatening to call for the vote after McCarthy broke several promises he made with the House Freedom Caucus to secure his election in the first place. Greene did not vote in favor of firing McCarthy, however.
Rep. Troy Nehls (R-TX) nominated Rep. Greg Steube (R-FL) for the role and filed the appropriate paperwork earlier this week.
Trump may be ineligible due to House Republican rules that state someone under an indictment for a felony with more than 2 years as a penalty cannot hold the position. They could simply change the rules, however.
Trump has previously said he wasn't interested in Speakership after Republicans secured the House in the 2022 midterm elections. He specifically said that people "bring it up," but that "it's not something I want to do."
Trump may not be interested in the position as it would occupy a lot of his time which he'd prefer to spend campaigning for the presidency.
Copyright 2023, BrightPress.org