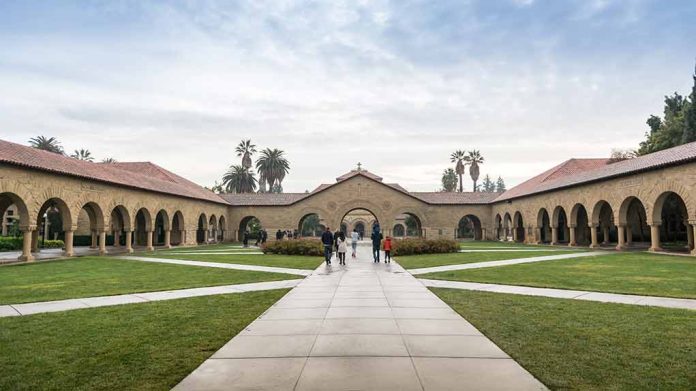 (BrightPress.org) – A Muslim student at Stanford University in California was struck in a hit-and-run attack that police are investigating as a racially motivated hate crime. The driver, who was described as a young blond white man with a short beard and round glasses yelled "f**k you and your people" after the assault.
The student, Abdul Omira, was hit on Friday, November 3rd. He said that his attacker made eye contact before the strike and yelled the phrase out an open window as he peeled off in a statement he made to ABC News. The car was a Toyota 4Runner.
Omira was crossing in a crosswalk when he was hit on Friday afternoon. The California Highway Patrol confirmed they are investigating the incident as a hate crime based on their preliminary findings.
Omira was not satisfied with the speed of Stanford's response to the incident. In his written statement, he complained they were too slow or "agonizingly silent" for six hours after the attack. He also accused the university of downplaying the assault.
Stanford University President Richard Saller and Provost Jenny Martinez published a letter denouncing the attack and saying that violence isn't acceptable. They condemned "hate-based violence" in the strongest possible terms and expressed solidarity and deep concern for Omira.
Stanford has been criticized for several recent incidents. A lecturer was recently suspended at the University for parsing out Jews from the class and branding them colonizers. He further blamed Zionists for the war between Israel and Hamas and justified the deaths of some 1,400 international and Israeli citizens who were killed in the attacks.
Campus police have said the conflict has caused increased tensions on campus. Omira told ABC News that he recognized the suspect from an earlier pro-Palestine sit-in from October.
Police are asking for witnesses to come forward with any information, they asked respondents to call the Santa Clara County Sheriff at 408-808-4500.
Copyright 2023, BrightPress.org