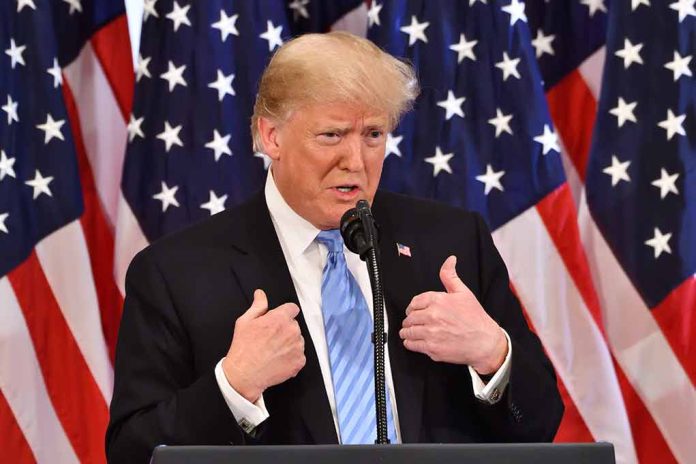 (BrightPress.org) – New York Democrat Judge Arthur Engoron declared Trump and Trump Org. engaged in fraud when they applied for a loan by inflating the value of his real estate assets on Tuesday, September 26th. The ruling was a favorable outcome for New York Attorney General Letitia James (D) who campaigned on using the office to legally attack Donald Trump.
Engoron claimed Trump lied to banks, insurance companies, and others by dramatically inflating the value of Mar-A-Lago as collateral to secure a loan.
Trump has claimed that he did no such thing and that Democratic operatives working in concert with James dramatically undervalued Mar-A-Lago when they had an 'independent' assessor assign the property $18 million in value.
Forbes magazine previously featured an article that said it could be worth as much as $350 million, to give an idea of the range in dispute.
Trump issued a response to the ruling on Truth Social. He characterized the indictments and lawsuits against him as a radical campaign organized by his political opponents. He said that the attempt to bar him from running in 2024 was a violation of his civil rights. He said Engoron was "DERANGED" (all caps) and pointed out that Letitia James was clearly politically motivated as evidenced by her campaign promises to use the office to go after him.
He called Democrat legal maneuvers desperate and said that they were a danger to American civil liberties and threatened the integrity of the Constitution.
Trump had attempted to have the case moved to commercial court and argued that it was the proper venue, but Engoron refused to grant the request. He also refused Trump's request to dismiss it based on obvious political motivations.
James is asking the court to slam Trump and his organization with a $250 million fine which would have a significant impact on his electoral war chest. She also wants to ban him from operating in the state of New York and prevent him from purchasing commercial properties for 5 years.
The non-jury trial will start in early October, and given Engoron's bias thus far, it's not that difficult to predict the outcome. Trump's team will likely appeal any unfavorable outcomes, and cite the political bias as a conflict of interest.
Copyright 2023, BrightPress.org