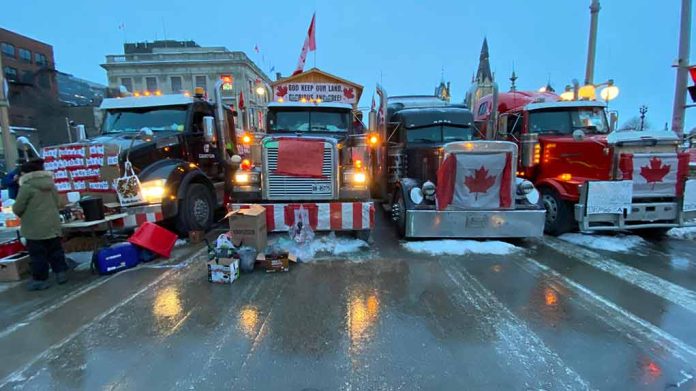 (BrightPress.org) – The Chris Barber and Tamara Lich trial accuses the pair of plotting a seditious conspiracy, obstructing the police, mischief, and intimidation charges. They maintain their innocence and that they organized protests to express their opposition to Canadian pandemic mandates and lockdowns. Their trial began on Tuesday, September 5th, and the judge in the trial is already chastising the conduct of the prosecutors.
The Crown logged ~4,000 thousand pages of digital communications from chat apps as "evidence" back before the deadline on August 1st, but is now attempting to whittle that massive heap down to roughly half the original amount. Lich's lawyer complained via the Democracy Fund (TDF, the organization crowdfunding defense costs) that they're forcing the defense to review documents that were already reviewed, and it's highly unusual during a trial.
TDF said that this indicates the Crown intends to rely in great part on the communications between parties involved as evidence to support their allegations. The Crown also submitted something called a "Carter Application" which contends that a conspiracy exists on the basis of the statements of the defendants exclusively. TDF said the application was "complicated" and requires proof beyond a reasonable doubt that there was a conspiracy and that it must be "direct evidence," not hearsay.
The court was also informed that Constable Barlow, who arranged a montage of footage of the event to be shown early deceptively edited the material to showcase only the worst behavior. It was exposed on cross-examination that he excluded images of children playing, expressions of affection, and police arresting protesters.
TDF reported that the judge suggested the Crown needed to make a clear case so that the defense could properly respond, they shouldn't have to aim at a "moving target."
Social media videos were also discussed during days 3 and 4 of the trial. The Crown will have to explain why it specifically wants to include video evidence before being able to log it as such and show it to the court. The trial is judge-only and is expected to continue for two more weeks.
Copyright 2023, BrightPress.org