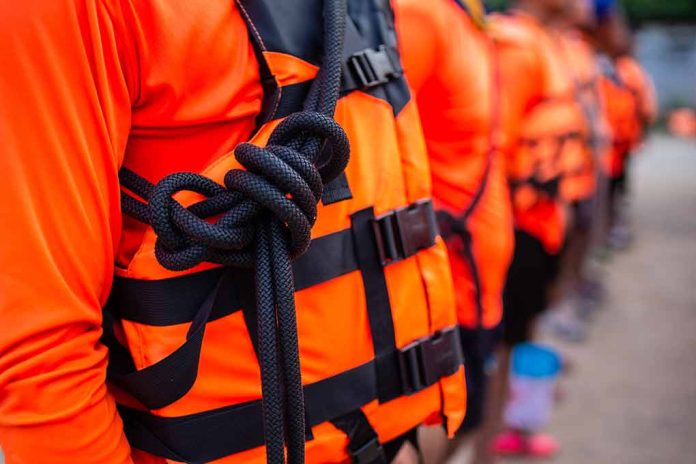 (BrightPress.org) – A distraught young woman was rescued by police on September 15th after she attempted to end her life by drowning in the waters of Lake Michigan. Kenosha police responded to a call after someone walking by noticed a woman perched dangerously close to the edge of a rocky shoreline. She went into the water shortly after officers attempted to get her to climb back to safety.
Video of the dramatic event shows police calling to the woman "Don't do it!"
The woman kept saying she wanted to die and wasn't worth saving. The officers continued to encourage her and explain to her that every life was valuable, asking her to let them help her out of the water.
One officer jumped in after her and helped her get a rope around herself so they could get her out of the water. The woman repeatedly said she wanted to die and the officers continued to counter that it wasn't her time and that her life was worth saving. Consistently, they instructed her to grab the line they had thrown to her, and eventually, the officer who jumped in after her was able to get it around her. Together they hoisted the woman to safety.
Police posted the body cam footage to the Kenosha Police Department's Facebook page saying that their fast response allowed them to save the woman's life. Both the officer and the woman were treated for hypothermia.
Roughly 50,000 Americans die by suicide every year, with the vast majority, 75%, being white men, according to the CDC. Their data also showed a mild increase in the number of successful suicides of 2.6% from 2021 to 2022.
Early September marked the passage of National Suicide Prevention Week, which attempts to raise awareness of the problem and highlight potential indicators someone is struggling with their mental health.
Licensed Clinical Psychologist Dr. Kristin Carothers suggests checking in with friends and family regularly, she added that when you ask someone how they're doing, double down and ask how they're really doing. She further elaborated on obvious signs of depression like sudden withdrawal and changes in appetite or hygiene habits. Furthermore, she suggested that folks who recently lost a job or otherwise seem overwhelmed will need extra attention and compassion from friends and loved ones.
Copyright 2023, BrightPress.org