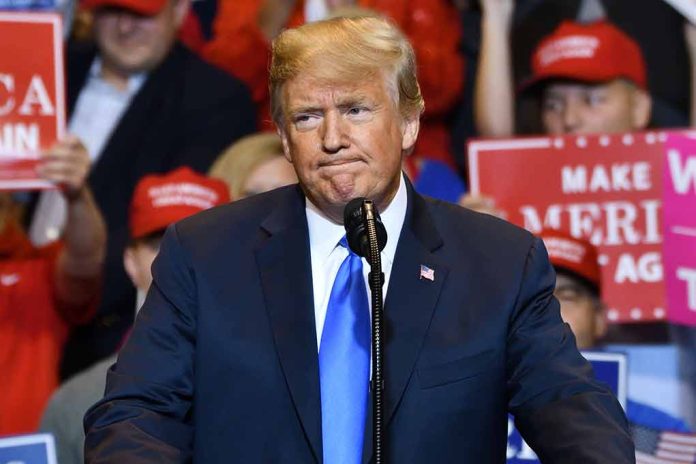 (BrightPress.org) – President Donald Trump published a response to the decision by a Democrat New York judge to revoke his business licenses without a trial in accordance with requests from the Democrat Attorney General Letitia James.
In his ruling on Tuesday, September 28th, Judge Arthur Engoron declared that Trump Org. and Trump himself are likely liable for fraud. A non-jury trial will start on October 2nd. With Trump's business licenses pulled, it will make it incredibly difficult if not impossible for him to maintain his operations in the state.
Trump issued a response that evening in which he said that his civil rights were violated and that he anticipated an Appellate Court would reverse the decision.
He called the legal attacks against him widespread and radical, and characterized the nature of the attacks as "un-American." He called Engoron "DERANGED" (in all caps), and described James as corrupt who ran on a platform of attacking him. He also declared that the attacks against him were solely due to his status as the leading political opposition to President Joe Biden's reelection.
He said that the Democrats were getting more dangerous and desperate to halt his campaign. He also said America was rapidly descending into communism and his civil rights were being stripped with every indictment they throw at him.
The case originated over claims that Trump inflated the value of his property in order to secure a business loan. That loan was paid back in full, with interest, and was considered a closed matter until James claimed that fraud occurred by disputing the value of Mar-A-Lago. Assessors with her office claim the property is worth just $18 million when Forbes was willing to suggest it was worth roughly $350 million as recently as last year.
The case against him features no harmed parties, however, James rationalized that her office was defending "the state of New York," and Engoron refused to dismiss the case or let it be heard in the commercial court.
James is asking the court to punish Trump to the tune of $250 million, ban Trump and his family from operating businesses in New York state, ban him from purchasing commercial property in the state for 5 years, and push a criminal referral to the DOJ.
Copyright 2023, BrightPress.org