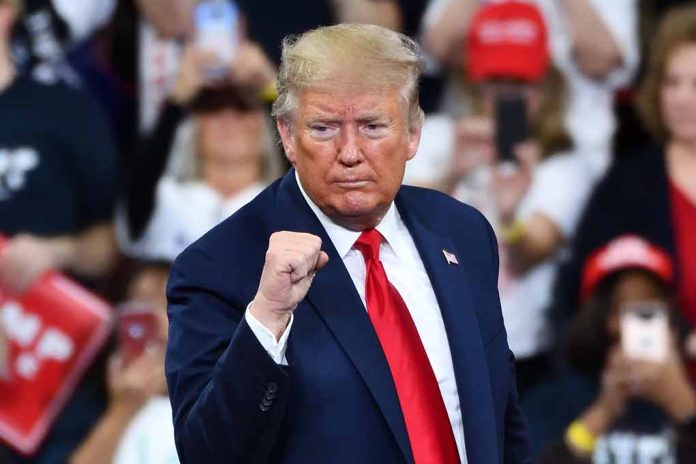 (BrightPress.org) – President Trump will address Detroit's autoworkers instead of attending the second GOP debate next week, according to multiple reports. The New York Times is reporting that Trump will be in Detroit during the prime-time debate to talk to members of an auto union currently on strike with major automotive manufacturers.
Trump is scheduled to travel on September 27th, while the rest of the GOP primary candidates will assemble at the Ronald Reagan Presidential Library in California. The second debate will mark the second time Trump has skipped the event, he has previously said he won't be attending any of them.
A source with the Trump campaign confirmed the details to The Hill suggesting the report from the Times was accurate.
The debates are slated to occur once a month up until the GOP convention on July 15-18th next year in Milwaukee, Wisconsin.
Last month, Trump sat down with Tucker Carlson for a long-form interview that was exclusively aired on X (Twitter) instead of attending the first GOP debate.
The timing of Trump's speech to autoworkers is contentious, United Auto Workers (UAW) which provides workers for Stellantis, Ford, and General Motors, is currently on strike as negotiations have failed thus far. The union is seeking increased wages, built-in pay raises for cost-of-living, a reduction from a 40 to 32-hour work week with full compensation, more pension benefits, and union representation at new facilities.
Trump has so far refused to engage in the debate or take sides, but he did suggest that the blue-collar workers were "being sold down the river" by UAW leaders before immediately suggesting they should all "endorse Trump."
The strike is keeping 13,000 workers off the job. The number represents ~10% of America's autoworkers. This is the first time in the organization's history that it has called for a strike from all "Big Three" car manufacturers. Workers in the auto industry have lost numerous benefits over the last few decades and are unsatisfied with the current state of affairs.
President Joe Biden has publicly come out in support of the union.
Copyright 2023, BrightPress.org