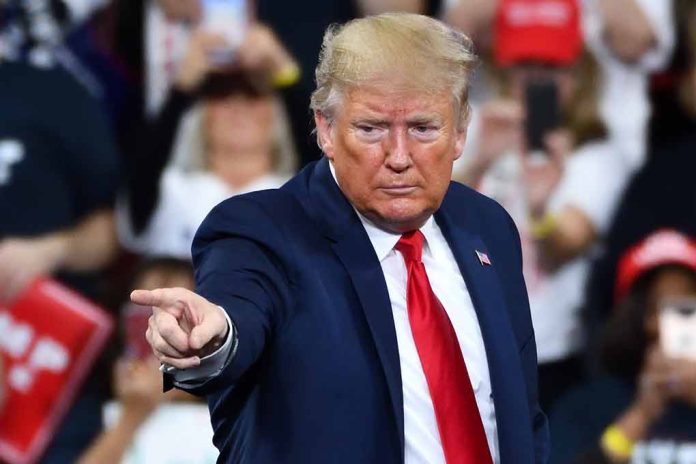 (BrightPress.org) – President Donald Trump vowed to fight America's fentanyl problem with a full naval blockade on Wednesday, September 20th, as part of his campaign speech in Iowa. Trump was discussing illegal immigration and the southern border and pointed out that President Joe Biden's policies have resulted in the destruction of innocent lives.
Many young people and police have been exposed to fentanyl, some of them killed as a result. Trump also highlighted the criminal activity illegal immigrants and cartels cause at or around the southern border.
Trump said he wanted to activate the Navy to patrol our coastal waters and blockade the country from smugglers trafficking people or drugs. He also announced his intention to use the Alien Enemies Act to remove illegals who are known or suspected of being involved in criminal activity.
Trump suggested that much of the ongoing crime problem in the U.S. is related to criminal gangs and illegal immigration. He said he wanted to activate every potential resource in order to "stop the invasion" of migrants.
Trump's blockade would give the Navy authorization to board and search ships entering U.S. waters for contraband. Trump encouraged House Republicans to push for border security now, ahead of the 2024 election.
Trump wants conservative congressmen to pass a law to stop President Joe Biden from using a single dollar of taxpayer funds to release or resettle illegal immigrants, starting September 30th of this year.
Trump said that the time for talking has passed and that we need to take some action in order to address and resolve these pressing issues.
Trump also threatened to scrutinize the media and specifically MSNBC's parent company Comcast for its "corrupt" and "dishonest" coverage if elected. He suggested the corporation could be guilty of treason due to its consistent output of rank deception and misleading coverage.
Trump interviewed with NBC host Kristen Welker on "Meet The Press" earlier in September, it's uncertain whether or not that interview impacted Trump's statements on the matter.
Copyright 2023, BrightPress.org