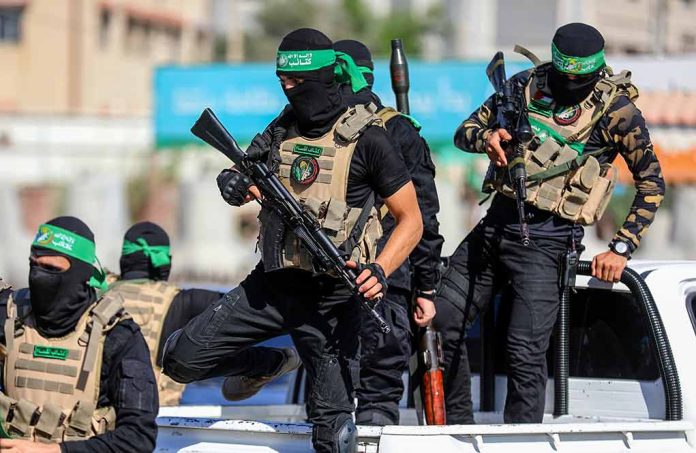 (BrightPress.org) – Two more women who were taken hostage in the October 7th strike on Israel by Hamas have been released in Israel. Yocheved Lifshitz, 85, and Nurit Cooper, 79, were let go and handed off to Red Cross personnel. Their husbands will remain captive.
Researcher Joe Truzman with the Foundation for Defense of Democracies (FDD) studies Palestinian military groups and suggests that Hamas' claims of releasing them for "humanitarian reasons" was a clever lie.
He said that the release of the hostages was likely intended to delay a ground assault on Gaza. A spokesman for the U.S. State Department, Matthew Miller, has said that Hamas isn't getting anything in exchange for the release of the hostages. He said no prisoner exchanges were authorized or discussed.
The release of these hostages follows the release of two American women, a mother and daughter, last week. Judith and Natali Raanan were let go on Friday, October 20th. They had been spending time with their relatives in Israel to celebrate a birthday and observe the Jewish holidays.
Fourteen hundred Israelis are dead along with 30 Americans following Hamas' deadly strike on southern Israel. Three thousand more suffered wounds, and approximately 200 people were taken hostage in the attacks.
New data about the casualties on the Israeli side indicate that many of the slain were Israeli police or military personnel. Allegations of mass rapes and slaughter of children have been spread around in the media and online in the aftermath with little corroborating evidence.
The Israeli military has been engaging in regular incursions and bombings of the region in response and advertising some of their missions on X (Twitter).
President Joe Biden said he would entertain talks about a ceasefire as soon as Hamas releases all its hostages. National security spokesman John Kirby has said that there is still a small number of Americans being held hostage in Gaza with over 10 still missing.
Copyright 2023, BrightPress.org