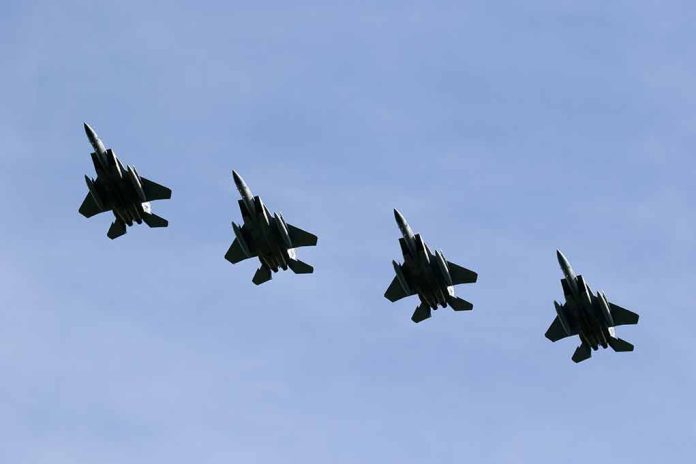 (BrightPress.org) – The Pentagon said the U.S. has retaliated against Iranian-backed militia groups in eastern Syria after multiple strikes on U.S. bases in the area. The military deployed two F-15 fighter jets to destroy a weapons depot said to be connected to Iran's military.
Defense Secretary Lloyd Austin said that the U.S. will "defend itself, its personnel, and its interests," in the region and that the President puts the safety of U.S. citizens as his highest priority.
This is the second strike in under two weeks by the U.S. against suspected infrastructure used by militants under the control of Iran's Revolutionary Guard. U.S. officials claimed that such groups have initiated over 40 attacks on U.S. bases since October 17th.
A hospital bombing that day inspired worldwide backlash. Hamas and Israeli militants exchanged blame over the strike, with each side claiming the other was responsible. It's still uncertain which side was responsible for the attack which resulted in possibly several hundred deaths (conflicting reports make the number impossible to verify) after a bomb exploded over a parking lot outside of a hospital in Gaza where many had sought refuge.
U.S. intelligence officials claim Tel Aviv wasn't responsible for the hospital strike without offering further explanations. The Israeli military has continued to drop bombs on Gaza in its war to eradicate Hamas. Palestinian health authorities have estimated that 10,000 are dead with over two-thirds of those being women and children.
The U.S. strike in Syria was an attempt to eliminate some of the weapons and ammunitions reaching militant groups, who would use them to attack U.S. personnel. The Biden administration is attempting to retaliate using specific targets and limited engagements to avoid widening the conflict. They previously attacked facilities on October 27th for the same reason.
The attacks have not managed to stop strikes against U.S. assets, however. Rocket attacks and drone bombings have been daily occurrences in the region, though they typically do not result in injuries or death of U.S. personnel.
According to the Pentagon, 45 people were injured during attacks on October 17th and 18th. Most of those were minor, with a few traumatic brain injuries. These happened at the al-Tanf garrison in Syria and the al-Asad air base in Iraq. One individual was killed in an attack on the Irbil air base in Iraq as well.
Copyright 2023, BrightPress.org