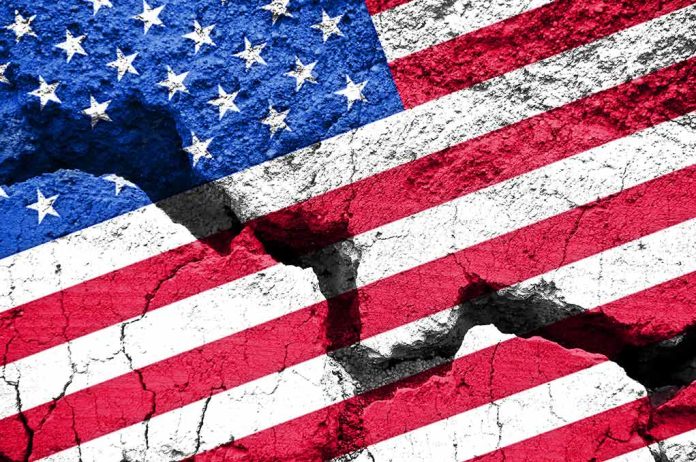 (BrightPress.org) – The governor of New Hampshire is fed up with Biden's inability to protect our northern border. Gov. Chris Sununu announced on Thursday, October 19th that he plans to use $1.4 million from the state budget to enhance border patrols by law enforcement along their 58-mile border with Canada.
Sununu said that the situation with the southern border has completely overshadowed the problems at our northern border where he said they've had more illegal immigrants coming over the northern border this past year than all the previous ten years combined. He further claimed they were picking up several people who were on the terrorist watch list.
Attorney General John Formella appeared with the governor during a press conference to elaborate on the problem and explain that they are not getting any federal support. They requested an "all hands on deck" response and created the Northern Border Alliance Task Force in response.
The group will ally state, and local law enforcement with representatives from Fish and Game, forest rangers, and others to increase the presence of authority at the border over a hundredfold. They said that federal authorities have repeatedly rebuffed or ignored their requests for help and as such they've been forced to take matters into their own hands.
Sen. Jeanne Shaheen (D) is a former governor herself and a leading Democrat in the state. She went to the border in September to see the situation for herself. She pledged more funding while criticizing Sununu, saying he failed to "utilize the money" they've made available for New Hampshire without getting more specific.
Director for Rights & Democracy NH Sebastian Fuentes called the announcement from Sununu and Formella a "manufactured crisis" and characterized the complaints as a "political stunt." Democrats had previously made the same suggestion regarding complaints at the southern border.
Sununu said that he found attempts to malign their efforts amusing considering that they're the only ones addressing the problem and attempting to fix it.
Official figures put the number of northern border encounters with illegal immigrants at 7,633 for the entire border from September 2022 through July 2023. Previous years had seen only 2,238 encounters for FY2022, and only 916 for FY2021. The southern border has roughly 200,000 encounters per month, overshadowing the situation up north.
Copyright 2023, BrightPress.org