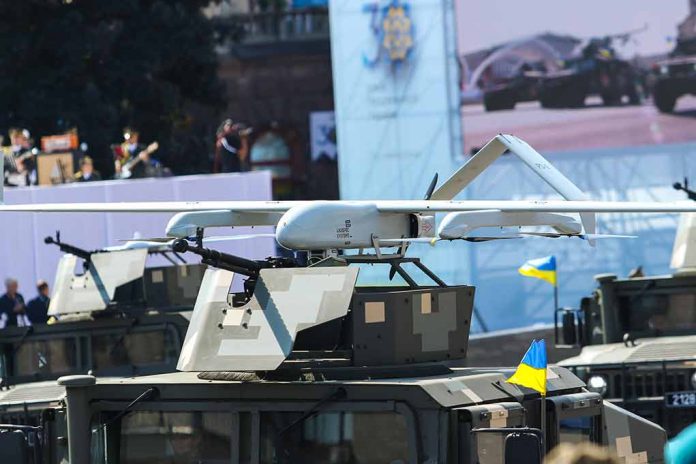 (BrightPress.org) – Ukrainian intelligence is reporting a successful drone attack wherein they piloted the UAV onto a Russian military base, landed it on an airfield, and then detonated a bomb when officers came to inspect the device.
Newsweek dutifully relayed the unconfirmed report, parroting Ukrainian intelligence while unable to confirm any of the alleged details. They claim the drone detonated on a runway on the Khalino airfield near the city of Kursk. The base is home to Russia's 14th Guards Fighter Aviation Regiment.
The drone landed at the base prompting inspection by officers, according to an unnamed Ukrainian source. They claim Russian Air Force officers and FSB members approached to inspect it when it exploded, killing the men.
Similar attacks have occurred recently, with a focus on Crimea. Crimea was annexed by Russia following a highly contested referendum in March 2014. Russian authorities claim over 80% of the population came out to vote and they overwhelmingly (95%) supported joining Russia.
Russian defense officials claim they've shot down 19 drones over the region in the last few days. The new strategy of landing drones at military installations and then detonating them could be explained by Ukrainians adapting to Russian success at capturing their drones.
Another drone landed or fell on a farm in Voronezh, south of Moscow on September 17th. It also exploded roughly 40 minutes after it was found. A telegram channel associated with Russian security agencies relayed the report. They showed pictures of the drone in a field close to a bus stop. Officials from the Russian Ministry of Defense have called the drone strikes terrorism.
Ukrainian military sources have claimed other successful drone attacks against a Ministry of Internal Affairs building in Kursk during the early morning hours on Monday, September 25th.
Russian military officials have confirmed one of their men is missing after a missile attack on the Russian Black Sea Fleet HQ in Sevastopol on Friday, September 22nd. Ukraine continues to lob missiles and drones at Russia while having little success repealing Russian forces from its interior.
Copyright 2023, BrightPress.org