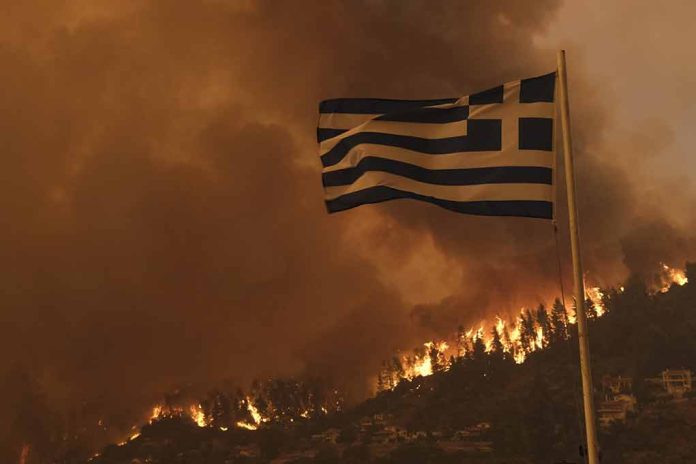 (BrightPress.org) – Greek authorities busted 160 suspects on charges of arson in response to the wildfires that raged across the country over the summer. Major media, including the New York Times, exclusively blamed the fires on climate change in their reporting on the subject.
Twenty-one people are dead due to the raging infernos that were likely caused by intentional or accidental arson. Forty-two of those arrested were accused of intentionally setting the summer fires with the remainder being accidental. 60 Greek firefighters were injured on the job while battling the fires.
There were still 99 wildfires being fought by Greek authorities as of Wednesday, August 23rd.
Multiple areas were evacuated over the summer, including the Alexandroupolis hospital complex in the northeastern part of the country. EU Commissioner for Crisis Management Janez Lenarcic told reporters that 180,400 acres had been reduced to ash in the city, making that blaze the largest wildfire ever recorded in EU history.
Spokesman Pavlos Marinakis announced the arrests of 160 people in connection with the fires. He further elaborated that the guilty will "face justice." The Associated Press revealed that police found a torch gun and kindling in one of the homes of the accused.
Climate Crisis and Civil Protection Minister Vassilis Kikilias called the offenders "arsonist scum" who harm the environment, property, and human lives. He further suggested that they will be "held accountable" for their crimes. He also warned that arsonists are continuing to threaten areas like Mount Parnitha, a forested area 30 miles north of the capital city of Athens.
Major media has been intent on blaming climate change for the fires, despite arson being a major factor.
CNN had recently attempted to "debunk the myth" that the summer fires were caused by arson. The BBC followed suit, similarly blaming "climate change" in their headline on a story about wildfires.
Additional pieces from NBC News, Politico Europe, and the Guardian all mention climate change multiple times, but the word "arson" doesn't appear in any of their coverage. Greek politicians have also blamed the fires on climate change.
Copyright 2023, BrightPress.org