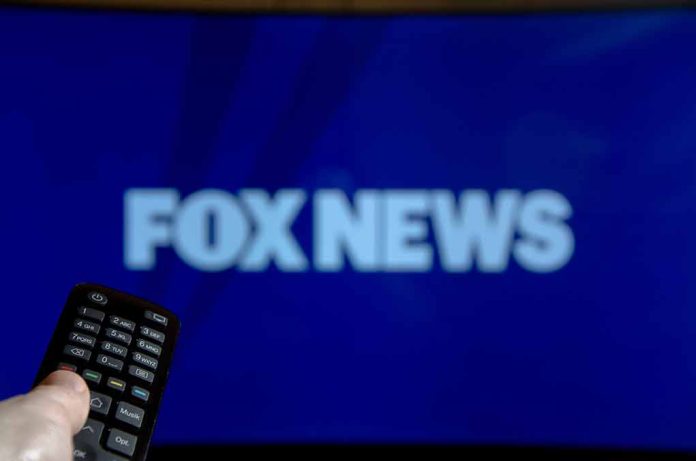 (BrightPress.org) – Fox News refused to run a Ron DeSantis advertisement for his presidential campaign that featured him holding a rifle and showed cartel members doing the same thing. The advertisement came from the DeSantis PAC "Never Back Down" and is a brief 30 seconds, however, still images of firearms offended the censors over at Fox News National and the advertisement had to be edited before they would allow it to air.
The bit is titled "Warzone" and features a picture of Ron DeSantis in Iraq in 2007, holding a rifle. Just 3 seconds into the ad, footage of cartel members wielding guns and audio of gunfire was replaced with more family-friendly content. The content was replaced with brief footage from the border of migrants shoving a razor-wire barricade.
The ad opens implying that the southern border has become an open warzone and pointing out that DeSantis is the only GOP candidate with experience serving in a warzone.
President Donald Trump has previously suggested Fox News has been biased in favor of DeSantis, boosting his content while muting Trump's. Trump lambasted the Wall Street Journal and Fox News on his social media site, Truth Social.
Trump and DeSantis have clashed over a variety of issues, most recently the latter has displayed open hostility toward the pharmaceutical industry and the latest round of advice from medical experts suggesting folks get themselves a booster shot for the infamous virus along with their flu shots.
They also differ on abortion, whereas Trump is much more moderate on the issue, DeSantis is in favor of a complete national ban on the practice. The issue divides the two candidates at a time when it's very contentious nationwide.
Trump stopped by a conference called the "Pray Vote Stand Summit" in Washington, D.C. on September 15th. It featured Christian prayers, songs, and speeches that criticized public school indoctrination into radical gender or race ideologies. Multiple GOP contenders appeared, including Mike Pence, Vivek Ramaswamy, and Ron DeSantis.
Copyright 2023, BrightPress.org