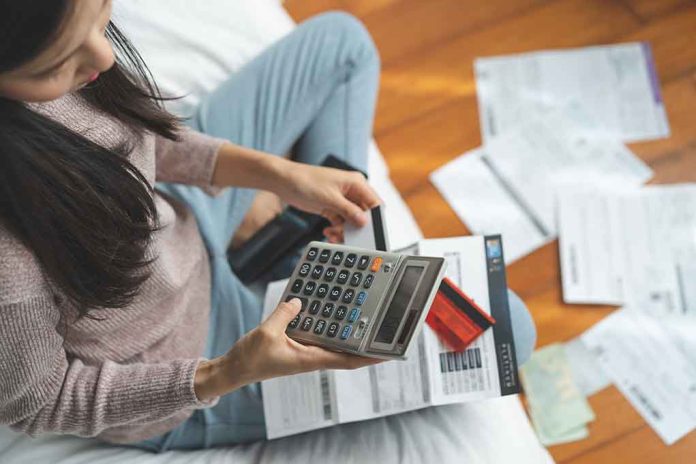 Your Credit Score Could Be As Good As New With These Simple Tricks
(BrightPress.org) – According to Experian, the average credit score in the U.S. is 714. Meaning nearly half of Americans are considered high-risk borrowers.
If you've got bad credit, you might be tempted to give up repairing it. Don't be! There are steps you can take to improve your credit score. Keep reading to find out more.
1. Check Your Credit Report for Errors
It's pretty standard for people to find errors in their credit reports. Checking your credit report regularly ensures you catch minor errors and can even help you report identity theft. You should pull reports from the three major credit bureaus, Equifax, Experian, and TransUnion.
If there are errors in your report, you need to act fast. Contact the company that reported the mistake and ask them to fix it. Usually, they'll correct the error immediately. Sometimes, you will have to file a dispute. You can do this by visiting  www.annualcreditreport.com and clicking "Disputes." Fill out the form and attach copies of your proof to correct the error.
2. Pay Down Debt
One of the largest factors affecting your credit score is outstanding debt. When you have overdue payments, creditors are less likely to extend you another line of credit.
To raise your credit score, you must focus on paying down your debts on time. Need help? Here are some tips to make paying down debt a habit:
Keep track of your spending. Write down every purchase you make. Then, see how your actual spending compares to your budgeted amount. If you're overspending, you may need to adjust your budget.
Budgeting. Where does your money go each month? Knowing exactly how much you spend, you can begin figuring out what you can save.
Earn extra cash. Consider asking for a promotion or working overtime. If you're unemployed, apply for temporary jobs online. There are also many places, such as Fiverr, where you can do freelance work. These jobs can ensure you're earning enough money to cover your monthly expenses.
3. Keep Your Accounts Current and Avoid Late Payments
Lenders look at whether you keep your accounts current. Late payments or missed bills might cause your lender to ding your credit score. Setting up automatic payments for recurring bills like utilities, rent, car loans, and insurance through your bank or credit union can help you pay on time. Make sure you know any upcoming due dates and have funds in your account to cover payments. If you're struggling to stay on top of your finances, you could fall behind on your bills. With payment history constituting 35% of your credit score, lots of unpaid bills increase your chances of a lower credit score.
You also want to make managing your account part of your routine. That means checking your balances regularly and monitoring your credit card usage for issues.
4. Don't Close Old Accounts
Closing old accounts can hurt your credit score because lenders consider your total number of open tabs to determine your risk level. So, keep an eye on your balance and only close accounts when necessary.
5. Debt Consolidation Services
If you have a large debt, consolidating your loans can help you lower interest rates and reduce the overall cost of your monthly payments. Before you go this route, be sure to shop around for the best deal. Some companies may charge higher fees, while others might offer better discounts.
6. Contact a Lawyer to Consider Bankruptcy
Filing for bankruptcy is the last resort for anyone who has fallen behind on their debts. A Chapter 7 bankruptcy may be the right course for you if you still struggle to repay your creditors.
Chapter 7 eliminates most of your debts, including student loans, medical bills, and credit cards. Remember: this option isn't suitable for everyone. Weigh your options carefully before deciding whether to file for bankruptcy.
One final note: if you decide to file for bankruptcy, wait until all your debts have been discharged. Otherwise, you could face additional fines and even legal consequences.
Managing your money can be challenging, but you can take steps to improve your financial situation and boost your credit scores. You want to review your credit report regularly, pay outstanding debts, and avoid late payments. Don't be afraid to take advantage of debt consolidation services or consider bankruptcy.
Copyright 2022, BrightPress.org