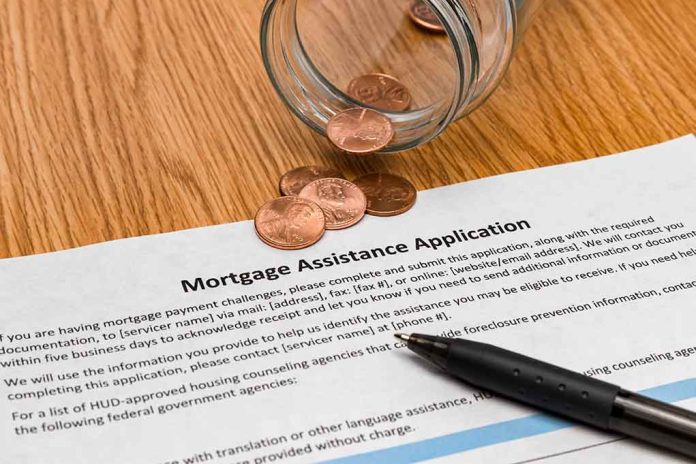 Mortgage Relief Is Closer Than You Think (Read This Now)
(BrightPress.org) – Due to COVID-19, many people have taken pay cuts or lost their jobs. Due to this, keeping up with your mortgage payments has become difficult, especially as rates have risen.
Luckily, various mortgage relief programs are available to help homeowners in need. They range from receiving lower finance rates or getting a payment break. Determining the right program for you is essential to improving your current financial situation.
2022 Mortgage Relief
Homeowners have a variety of relief options. Since the start of COVID-19, most lenders have offered forbearance, which will continue as long as a National Emergency is declared. Additionally, homeowners can refinance, despite the rising market rates.
It is best to explore your options by talking to your mortgage provider. Together you can determine the relief path that works for you.
Fannie Mae and Freddie Mac Mortgage Relief
If Freddie Mac and Fannie Mae back your home, you may have a couple of great options available to you. Since there are no current forbearance deadlines, you can still ask your loan provider for help with mortgage relief.
Additionally, The new Fannie and Freddie refi programs Freddie Mac's Refi Possible and Fannie Mae's RefiNow have made it easy to lower your interest rates and mortgage payments. Homeowners with moderate to low incomes can use these programs to get great savings, even if they do not qualify for refinancing.
These programs provide homeowners with reduced rates, mortgage payments, and lower closing costs. Eligibility for these programs varies based on the median income in your area. If you have more questions about these programs, look here for more details.
Government-funded Mortgage Relief
The above programs are great for conventional mortgage loans, but federally-funded loans like the VA, USDA, or FHA may need to seek other solutions. Homeowners with these loans should apply for government-sponsored programs such as Streamline Refinance.
Government-funded loans currently have great deals thanks to the Coronavirus, Aid, Relief, and Economic Security (CARES) Act. This program suspended borrowers' payments into 2022.
Refinancing
Refinancing offers homeowners savings by lowering their payments and rates. It also extended the mortgage loan term, allowing for a reduced monthly payment. Rising home values have made it possible for homeowners who placed small down payments or recently refinanced to be eligible for the current interest rates.
Refinancing in this way does not require high finances or excellent credit to qualify. It may be worth talking to your loan provider to see if you are eligible.
Streamline Refinance includes:
FHA Streamline Refinance- Federal Housing Administration (FHA) is a great loan relief option for those having paid the existing FHA mortgage on time, even if they are already in forbearance.
VA Streamline Refinance (IRRRL)- Falling under the Department of Veterans Affairs (VA), IRRRL aims to help veteran homeowners and their eligible spouses.
 USDA Streamline Refinance- The United States Department of Agriculture (USDA) offers loan refinancing to those living in rural areas.
Mortgage Forbearance
Mortgage forbearance is a great option for struggling homeowners with government-funded mortgage loans by pausing payments for up to 18 months. This doesn't mean that your debt is cleared. You will still have to pay for those debts once the forbearance ends, but it will give you some time to breathe.
What type of loan you have and when you last applied for forbearance will determine whether you are eligible for assistance. You may be able to qualify for up to two 3-month extensions.
Homeowners who qualify for forbearance can receive the following benefits:
No added interest, penalties, or late fees
No evictions or foreclosures
No need for credit bureaus
Once your forbearance ends, you still have options for exiting forbearance. Fortunately, your lender cannot force you to make full payments when leaving forbearance. Instead, you'll spread the missed payments across your regular payments until you get caught up. You can also defer your payment until you sell or refinance your home. You can refinance your home three months after your forbearance ends.
Loan Modification
You may have to consider a loan modification if you have lost your forbearance and don't qualify for refinancing. This allows homeowners with permanent changes in finances to lower their mortgage rates. Biden's new mortgage stimulus program reduces mortgage payments by 25%.
Conclusion
Homeowners facing financial struggles should talk to their loan providers immediately. Knowing your options will help you determine the steps you can take to avoid late fees and even foreclosure. The U.S. Department of Housing and Urban Development (HUD) offers housing counselors to help answer questions. To find a housing counselor near you, visit HUD's website.
Don't just stop making your payments! You have more options than you might know.
Copyright 2022, BrightPress.org